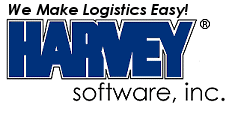 New CPSTM Shipping Software Version Boasts Fastest Processing Ever and Expanded Carrier Services Support
For Immediate Release (01/09/04)
CONTACT:
Steve Stevenson
Harvey Software, Inc.
7050 Winkler Rd., #104
Fort Myers, FL 33919
Phone: 800-231-0296
Web Site: http://www.harveysoft.com

FORT MYERS, FL -- Harvey Software announced today it will release a new version of its best selling product, the Computerized Parcel System (CPS), in January 2004. This new version of CPS adds the newest UPS® technology, plus enhancements for FedEx® and US Postal Service® shippers. CPS users can now take advantage of many new UPS services, including sending UPS their daily shipping data over the Internet or by direct dial-up. For all carriers, the new CPS processes package records up to 80% faster. With easier data entry screens, more streamlined shipping steps and a simplified daily close out, every aspect of package processing with CPS is faster, more efficient and easier.

In addition to using the Internet for daily data transmissions, UPS shippers can perform a time-in-transit lookup easily for any package, receive verified ZIP+4 updates for the CPS customer file, provide UPS Quantum View NotifySM ship notification services, use UPS Return and Returns Plus services, and take advantage of UPS Flexible Insurance services. International UPS shippers benefit from expanded commercial invoice options, additional SED capabilities, the ability to record increased foreign currency amounts, using the International UPS Exchange Collect service, or, delivery of an international package only after UPS receives payment.

"In addition to supporting the latest carrier technology, we want to make sure our parcel processing capabilities are the best, bar none for CPS shippers," said Bert F. Hamilton, Harvey Software's President/CEO. "CPS was already fast and the new speed improvements make it that much more remarkable, but that's just the start,"
A new critical file backup utility is now part of every CPS, the SHIP eLERT® e-mail shipment notification can be customized even more, field sizes are increased to help with both carrier requirements and user needs, and daily shipment reports are more useful, with more detailed payment reporting and summary report options.
"The improvements to CPS represent almost a solid 3 years of client research and programming effort. I believe that both current and new CPS users will be very surprised and pleased with the results the all new CPS. I can think of no better way to celebrate 20 years of serving our clients," Bert Hamilton concluded.
The new version is now shipping and will remain at its current price until February, 2004. All current clients using CPS and who have an active service agreement will be upgraded the first half of 2004 on a scheduled basis at no additional cost.

Founded in 1983, Harvey Software, Inc., is a leading provider of innovative parcel shipping and eCommerce software. Harvey Software's CPS is UPS ReadyTM, supports FedEx Express® and FedEx Ground®, is USPS® certified and supports SpeeDee® Delivery services. All Harvey products may be used in standalone or multi-user configurations under Windows 2000 and XP operating systems.

For additional information, contact Steve Stevenson, Harvey Software, Inc., 7050 Winkler Rd., #104, Fort Myers, FL 33919, 1-800-231-0296, http://www.harveysoft.com.

Disclaimer
Brands and products referenced herein are the trademarks or registered trademarks of their respective holders.
# # #

Copyright © 2004 Harvey Software, Inc. All rights reserved.