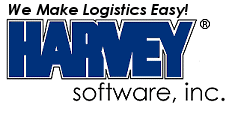 Alaska Based Companies Can Now Choose the Best Carrier for Their Packages with CPSTM Shipping System Update
FOR IMMEDIATE RELEASE (03/01/06)

PRESS RELEASE

CONTACT:
Steve Stevenson
Harvey Software, Inc.
800-231-0296
http://www.harveysoft.com

FORT MYERS, FL – Companies in Alaska now have a significant new choice in shipping systems. Harvey Software's multiple-carrier Computerized Parcel System - CPS - shipping software is now available for Alaska-origin shippers. FedEx®, UPS® and USPS® services are easily used from a single entry screen, and shippers can choose the carrier themselves as they ship. CPS RateBots™ can also be used to automatically choose the least expensive way to ship a package.

"Shippers in Alaska tell us that an Alaska-origin CPS program is long overdue, so we are glad to offer this product," said Steve Stevenson, Harvey Software's Director of Sales. "CPS handles the various local and rural services offered by each carrier, and keeps the shipper from choosing the wrong service for a particular destination. International shipping is also included," Steve explained. "We are certainly pleased to again provide our reasonably priced shipping software for Alaska, with the bonus that CPS now supports the three main US package carriers. Previously, CPS for Alaska-origin handled UPS only. CPS has a great data connectivity toolbox to let shippers use their existing data, and CPS RateBots will automatically choose the best rate every time for every package. Plus, the Alaska-origin version of CPS is available at no additional charge," Steve said.

Founded in 1983, Harvey Software, Inc. is a leading provider of effective, reliable shipping software to solve the parcel shipping problems of today's small businesses. Harvey Software's CPS is a FedEx® Compatible Solution, UPS ReadyTM, USPS® certified and supports SpeeDee® services. All Harvey products may be used in standalone or multi-user configurations under Windows 2000 and XP operating systems. CPS users ship over 150 million packages per year.

For additional information, contact Steve Stevenson, Harvey Software, Inc., 7050 Winkler Road #104, Fort Myers, FL 33919, 800-231-0296, http://www.harveysoft.com.
Disclaimer
Brands and products referenced herein are the trademarks or registered trademarks of their respective holders.
# # #

Copyright © 2006 Harvey Software, Inc. All rights reserved.