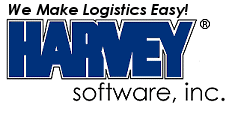 Multiple Carrier Shipping Software Achieves MAC Certification Supporting a Long List of USPS Services

FOR IMMEDIATE RELEASE (06/14/10)

PRESS RELEASE

CONTACT:
Steve Stevenson
Harvey Software, Inc.
800-231-0296
http://www.HarveySoft.com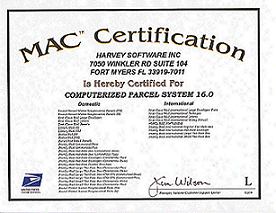 FORT MYERS, FL - Harvey Software announced today that its Computerized Parcel System (CPS) shipping software has again successfully completed the latest US Postal Service MAC™ certification process. MAC certification from the US Postal Service® evaluates USPS® manifest mailing products and determines that the manifest system accurately lists and calculates postage according to USPS standards. The CPS shipping solution is MAC certified for a long list of domestic and international mailing and package services.
"Processing packages in volume with the post office presents problems for many shippers. We are determined to solve that problem," said Bob Sansone, Harvey Software's Director of Sales. "For companies shipping at least 200 pieces or 50 pounds every day with the post office, manifesting might be your fastest package processing choice, but a manifest system can be expensive. We are proud that our CPS shipping software has now qualified for MAC certification for 10 years so we can provide a really capable manifest system that everyone can afford," explained Mr. Bob Sansone. "The post office looks more and more attractive to small package shippers as an alterative to the other US carriers, especially for residential shipments since the USPS has no residential delivery surcharge. CPS lets shippers use both levels of post office Commercial price discounts, so shippers can compare rates using the lowest post office prices for which they qualify. Whether you use a manifest, apply stamps, use a meter or use Internet postage, CPS lets you choose how you ship with the post office. With fewer than 20 companies listed by the USPS with MAC certification, we are glad we can give shippers a great choice for their US Postal Service shipping," Mr. Sansone concluded.
About Harvey Software, Inc.
Harvey Software is an established, leading developer of globally ready, eco-friendly, multiple-carrier shipping software solutions, providing businesses with shipping solutions since 1983. Harvey Software's premium shipping solution, the Computerized Parcel System (CPS™) increases profits, boosts domestic and international shipping efficiency, reduces shipping expenses and eliminates the inefficiencies of single carrier software systems. CPS is a FedEx® Compatible Solution, is UPS Ready®, USPS® certified and works with Endicia® Internet Postage. CPS can be purchased, downloaded, installed, and supported all over the Internet.

For additional information, contact Steve Stevenson, Harvey Software, Inc., 7050 Winkler Rd. #104, Fort Myers, FL 33919, 1-239-243-0034, http://www.HarveySoft.com.

Disclaimer
Brands and products referenced herein are the trademarks or registered trademarks of their respective holders.

Photo for Use with this Press Release:
# # #

Copyright © 2010 Harvey Software, Inc. All rights reserved.