Computerized Parcel System (CPS)
For CPS Powered Solutions Version 20140101B and higher
System Requirements
System Requirements for Products Powered by CPS and All Supported Carrier Services
Microsoft Windows 101
Pentium® - class processor 1.0 GHz or higher1
4 GB RAM or more1
2 GB of free hard drive space or greater2
Video Monitor with 800x600 resolution or higher
High-Speed Internet Access (DSL, Cable, T1, or equivalent)3
Mouse or compatible pointing device
ODBC users must have MDAC v2.5 or higher
CPS SHIP eLERT® users must have a POP3/SMTP e-mail account4
Appropriate scales and printers for reports and labels5
Optional Bar Code Scanner for speeding up the data entry process
All carrier account numbers to be used must be correctly authorized by the carriers6
CPS must be installed using an account with Administrator rights on the computer
The computer where CPS is installed must have the correct communication ports for the scale and printers to be used. Generally any bar code reader may be used as long as its data input simulates keyboard entry. International shippers may need to have both a thermal printer and a laser printer to be able to produce all the necessary international documents. For a list of compatible scales and printers see below.
1 CPS can be used with Microsoft Windows 10 but requires the User Account Control (UAC) to be turned off. For the best performance use a Pentium class 1 GHz processor or higher with 4 GB RAM or more. Speed of processing packages is increased by using a faster processor and the amount of memory available.
2 Standard requirements are usually more than sufficient but if large amounts of history data are retained more storage space may be required.
3 A persistent High-Speed Internet connection is required. CPS supports any type of High-Speed Internet access that works with a standard Internet browser from the shipping PC. The ports CPS uses are basic Internet default ports but must be allowed at all times. The ports used include 21, 80, and 443. When using the SHIP eLERT® option, ports 110 and 25 (or 587) are also used.
4 Web based free mail accounts like those from Gmail, AOL, Hotmail, and Yahoo cannot be used to send CPS SHIP eLERTs. Gmail accounts (xxxx@gmail.com) can be used with the POP3/SMTP option setting turned on and using the SSL setting in the SHIP eLERT setup.
5 Depending on carrier and carrier services, different scales and printers may be required. If CPS is to print all the necessary documents for international shipments, a laser printer, a thermal printer and special carrier provided thermal label stock may be required. EPL2/ZPL2 based printers have the best compatibility for shipping labels.
6 Carrier account numbers must be activated for use with automated solutions like CPS. If you receive an account number related error message while setting up CPS, be sure that your account has been properly set up by the carrier for this type of automation.
Important Notice: CPS must be the only shipping software installed on the shipping computer. Having multiple shipping software products installed on the same computer can cause CPS label printing and daily carrier uploading to function improperly. Any other carrier or vendor shipping software must be uninstalled before installing CPS.
Special Requirements for CPS Shippers Optionally Using the USPS eVS Module
When USPS eVS is choose for USPS packages, CPS creates the shipping data file at the end of the day that is uploaded to USPS using special USPS provided gateway software.
USPS gateway software is installed, updated, supported and maintained on your computer by the USPS. CPSLogic provides the shipping data file to the USPS gateway software. USPS gateway software can be installed on your shipping computer or on a separate computer accessed over your network. Like any software product, the USPS gateway software is subject to change and its requirements can change. USPS will provide the current system requirements for the USPS gateway software.
The following are some additional items we have found, not listed in the normal USPS gateway software system requirements, but which you may need to be aware of for the computer where the USPS gateway software will be installed:
May need WinZip on destination machine for installation
Needs Internet access with a supported browser and e-mail access on destination machine
Administrator rights required at the time of the installation
Must have Windows Firewall (or other Firewall software) and Antivirus software shutdown during the installation
Must have the Firewall configured so the USPS gateway software can use the Internet
Must have Ports 8443 and 5443 defined on system for available use
Destination machine may need to stay powered on 24X7
CPS Supported Printers and Scales
CPS is tested and used daily with many electronic scales, thermal label printers and Microsoft Windows® supported printers. Although CPS will work with equipment not listed below that uses Microsoft Windows Printer Drivers, Harvey Software has only tested and certified support for the devices listed below. Generally, any Microsoft Windows supported printer that prints on 8.5x11 cut sheets of paper will work as a report printer. Because scales and printers are constantly changing, testing the usability of any printer is the responsibility of the end-user.
The shipping computer must have enough USB, parallel and/or serial interfaces for the devices attached. Electronic scales require a serial interface to work properly with CPS. Any Microsoft Windows compatible laser printer or inkjet printer with laser acceptable quality output may be used to create shipping documents and labels.
Thermal label printers are supported by CPS. There are two ways to use thermal printers with CPS: 1) as a Microsoft Windows supported printer or, 2) as a Port-Direct printer. It is recommended that all printers be used as a Microsoft Windows supported printer. Port-Direct support is available for older computers that have issues with Microsoft Windows printer drivers. The Port Direct printer option may be made unavailable due to changes in future Microsoft Windows operating systems or carrier compliance requirements.
Microsoft Windows Supported Direct Thermal or Thermal Transfer Label Printers
Windows Compatible Zebra/Eltron Printer (EPL2, ZPL and ZPLII printer that supports 4" x 6" or longer labels)
Windows Compatible Thermal Printers with a Standard Windows Compatible Driver Installed
Port-Direct Option Support for Select Thermal Label Printers
Zebra ZP450
Zebra LP-2844*
Zebra TLP-2844*
Zebra 2746E
* May require a firmware download and install from the http://www.zebra.com website to print DataMatrix barcode for internet postage and/or UPS Mail Innovations labels using EPL2 printer language. We do not recommend doing firmware upgrades unless done by someone with experience as they can make the printer inoperative if done incorrectly. We recommend that EPL2 is not used on these printers and another language is used in its place. If this is not possible, we recommend purchasing a printer that properly supports DataMatrix barcodes.
Serial Electronic Scales
Avery/NCI Weigh-Tronix models 7620, 7820R, 7885, 7680, 7880
NCI Weigh-Tronix models , 3810**, 3815**, 3820**, 3825**, 3835**
Weigh-Tronix models SC-310**, SC-320**, 311T**, 321T**
Fairbanks models Ship It!TM (Model 2455), Ultegra®, 2433**, 2453**
Mettler Toledo PS60, PS90, 8213**
Transcell/TransTronic models SP100, SRP200, SRP300
USB Electronic Scales
Fairbanks Ultegra®
Mettler Toledo PS15***
Mettler Toledo PS30***
Mettler Toledo PS30_SEC***
Mettler Toledo PS60
Mettler Toledo PS6L***
Mettler Toledo PS90
Mettler Toledo PS90***
Important Notice: Models of electronic scales and printers change frequently. Scales marked by ** are supported but no longer sold. As long as a scale or printer can emulate 100% of the functionality of one of the scales and/or printers listed above, the scale and/or printer in question should work. However, we cannot guarantee any scale or printer to work except those listed above. Printers can be made obsolete due to changes in carrier compliance requirements at any time. In some cases a "null modem" cable or adapter may be needed to successfully connect the scale to work with Harvey Software shipping products. Scales marked by *** includes support for 2008 and prior models.
Mettler Toledo PS6L can be used in 0.02 lb. or 0.05 lb. accuracy modes. Scale configuration changes may be needed to set these modes.
Important Notice for Scales Used for USPS: Scales used for USPS packages must read to four (4) decimal points to use services that are priced in ounces. The Weigh-Tronix 7620 is an example of a scale that reads and records weights for USPS packages.
Use of any Harvey Software product is subject to the terms of the Harvey Software, Inc. Authorized End User Agreement. The information on this page is subject to change without notice.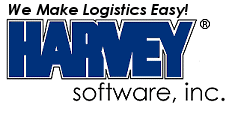 Copyright © 1997-2021 Harvey Software, Inc.
All rights reserved.
Last modified: June 28, 2022