< Previous Page Home > Partners > Become a Harvey Software Business Partner
Become a Harvey Software Business Partner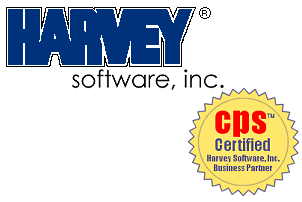 Harvey Software's Business Partner programs are "win-win" plans. Business Partners leverage their status as recognized leaders in their own industries, incorporating Harvey Software products with their own products and services to create premier unified shipping solutions for their ecommerce and other customers. Success here is the "win" for our Business Partners and the "win" for their customers.
Harvey Software Business Partner Categories
Integrated Partners – provide solutions for mail order, retail, manufacturing, shopping cart, ecommerce system or other applications using Harvey Software products for their shipping solution. Integrated Partners are trained to resell and support Harvey Software's supply chain tools.

Solutions Partners - business consultants, systems integrators and carrier service providers that provide enhanced services, and can sell, install, support and train shippers in the use of Harvey Software products.

Technology Partners - peripheral providers, third party software and platform providers that offer solutions supported as integrated features found in Harvey Software products.

Compliance Partners - local, regional, national and global carriers with which Harvey Software supports and maintains compliance.

Industry Partners - businesses that supply products and services that helps the shipper save money, make more sales, ship more products and increase the efficiency of Harvey Software products and services. Harvey Software wants successful and happy customers and these partners will help get this done.
Becoming a Harvey Software Business Partner
Create the right program to increase your bottom line with Harvey Software's Business Partner program tailored to your company. If you want to expand your offerings and you fit into one of the above categories, we have the deal for you! We recognize that our mutual success often requires much more than just shipping software.

Find out what Harvey Software's Business Partner program can do for your business. Contact Harvey Software and ask for our Business Partner Specialist at 800-231-0296 or send us an e-mail today. You will be glad that you did!
What Harvey Software Business Partners Say
"Endicia is excited to be working with Harvey Software to offer direct integration of our leading Internet Postage shipping and fulfillment service in Harvey Software's CPS shipping software. This partnership gives our mutual clients access to the savings and benefits of the complete suite of USPS® services. With Endicia Internet Postage and CPS, users will reduce costs, speed up order fulfillment, increase visibility, and improve customer service."
Copyright © 2011 Harvey Software, Inc. All rights reserved.
About Harvey Software | Blog | Careers | Contact Us | Copyrights & Trademarks | Demos | Email Newsletter | FAQs | Feedback |
Hours | Index | News | On-Line Store | Partners | Privacy Policy | Products | Reviews | Support | System Requirements | Tracking Solutions | Updates
Last modified: April 23, 2013

Harvey Software logo is a registered trademark of Harvey Software, Inc.
Harvey Software, Inc. has produced CPS - Shipping Software along with other software products since 1983.

UPS® service marks used by permission. UPS, UPS brand mark, UPS Ready®, UNITED PARCEL SERVICE® and the Color Brown are registered trademarks of United Parcel Service of America, Inc.
All Rights Reserved.
FedEx® service marks used by permission. FedEx Compatible Solution means the FedEx functionality in CPS has completed FedEx certification testing.

United States Postal Service marks used by permission. USPS® and United States Postal Service® are trademarks of the United States Postal Service.

DYMO Endicia service marks used by permission.

Spee-Dee service marks used by permission.