CPS Solutions
Packages Delivered for Less
Works with Your Data
ODBC and External Link
Batch Importing/Exporting
Background Import/Export
Cut'N Ship®
The Automator
Ready-Made Solutions
Connecting to QuickBooks
Success Stories
Select the Right Solution

Ship your products easier, faster and with fewer errors. Whether you ship packages one-at-a-time or process many packages at once in a batch, CPS can automate the entire shipping process. CPS integrated shipping software gives you a variety of "real-time" and other connectivity options to link to your ecommerce systems. See the CPS Solutions list to explore all the connectivity possibilities.

Includes Advanced Connectivity Tools for Connecting to Your Data!
Connectivity Tools

ships easier, faster, and with fewer errors using its advanced connectivity tools. The External Link "tool box" in CPS provides easy connectivity to your existing data, whether you ship one package at a time or many packages at once in a batch. CPS can automate the entire shipping process and even has "hands-off", totally automatic shipping!
Whether accessing a company database, an accounting program on a networked PC, or shopping cart order files from an ecommerce system, CPS increases parcel velocity through your business and lowers operating costs. CPS connectivity tools combine with CPS features, such as Default/Skip Schemes, to eliminate keystrokes when you ship.
CPS pioneered a number of ways for shipping systems to use existing data. Special data translation tools for ODBC compliant tables, special features for SQL data, transparent data importing and even a real "hands-off" processing mode. Every situation can be different and CPS has the tools to help.
Special Note: CPS comes with very flexible, advanced tools to connect to your data. We try our best to back up all of our connectivity tools with easy-to-use interfaces and on-line help. Many of our clients say linking to company data is easy with CPS, but others need help due to special requirements. In this case we give you choices. One solution is to use one of our Ready-Made Solutions. If you do not find a Ready-Made Solution that fits your needs and you are unsure if your company has the needed technical resources, contact one of Harvey Software's Business Partners. Harvey Software Business Partners are experts in getting your data connected to CPS. If you still do not find solutions, email us with your needs.
See How Fast Parcel Processing Solves Your Shipping Problems...

---

ODBC and External Link - Real Time Connection to Your Data
ODBC (Open Data Base Connectivity) in CPS is a smooth, reliable real-time link to your shipping data. Just enter the order or consignee ID and CPS collects the shipping data in "real time" from your in-house systems. After the parcel is processed, CPS can also send the shipping information back to your linked system. The external data can be located on just about any type of system, from mainframes to client server systems to stand-alone databases on your shipping computer. All that is needed is a Level 2 compliant ODBC driver and your system is ready for streamlined shipping! ODBC support is included with every CPS package.
With ODBC and External Link you can:

| | |
| --- | --- |
| | Collect data from a single table |
| | Collect data from a second table looked up from a link in the first table |
| | Collect data to a SQL Stored Procedure1 on your SQL Server |
| | Translate data coming from and going to your table |
| | Write shipping data collected back to your table |
| | Update a record on write back to your table |
| | Write back changes to already processed parcels |
| | Write back deleted parcel information |
| | Auto-process separate first and last name fields |
| | Include time stamps with write back data |
ODBC Setup is fast. You just choose your data table and match your data fields to CPS through an easy to use graphical interface. Once this is set up, it only needs to be changed if your data table changes. Data entry for your shipping department becomes a snap.


Click to Enlarge
Sample External Link Set up Screen
ODBC is one an excellent way to link your in-house data to CPS. Using ODBC helps lower system maintenance and upgrade costs as your other software systems change over time.
To learn more about why you should consider ODBC, read the article from DataDirect Technologies2 web site entitled "PRODUCT OVERVIEW - Why developers should use ODBC instead of native proprietary database interfaces" (PDF).
1 Stored procedures are small stand-alone programs or routines written (usually) in SQL (Standard Query Language) and stored in a database for easy retrieval by other programs or procedures. A stored procedure contains a set of operations or queries to execute on a database server. Stored procedures should only be used if your database query is more complicated than a one or two table look-up. The stored procedure does require programming and maintenance on your part.
2 The article entitled "PRODUCT OVERVIEW - Why developers should use ODBC instead of native proprietary database interfaces" is a the property of DataDirect Technologies (http://www.datadirect-technologies.com). © 2002 DataDirect Technologies, Inc. All rights reserved. DataDirect Connect is a registered trademark of DataDirect Technologies. Harvey Software is using this article by permission. This article is provided for information only. Harvey Software does not endorse the content or accuracy of this article and/or claim that any of DataDirect Technologies products will work with your data bases and/or CPS. DataDirect Technologies offers a Wire Protocol ODBC driver for every major database - Oracle, DB2, SQL Server, Sybase and Informix. (http://www.datadirect-technologies.com/products/odbc/odbcindex.asp) The successful use of DataDirect Technologies products with CPS will be your responsibility.

---

Background Importing/Exporting - Add Packages as You Work
Background Importing and Exporting moves data to and from an external data source automatically. The shipping system operator just continues to process parcels. Imported data is ready to be used immediately, and exporting is so fast it is invisible to the shipping system operator. Background Importing and Exporting is very versatile, extremely stable, works in a multitude of environments and is easy to set up. Background Importing and Exporting uses easy to work with text files, and you can adjust CPS to use the data in your file.
| | |
| --- | --- |
| | No additional user steps needed to import or export data |
| | Keeps your shipping data in a "holding" file until you are ready to use it |
| | Included with every CPS package |

---

The Automator - Hands-Free Shipping
With the CPS Automator, shipping becomes a hands-free operation. The Automator imports and processes package data, prints shipping labels and documentation, then exports data about the shipment - all without any intervention. Shipping becomes a hands-off process! This works especially well in areas where security or user errors are of the utmost concern.
If you are interested in The Automator, please contact one of our shipping software specialists. They will be glad to give you the necessary requirements to make this method work for you. This option is available in every CPS package.

| | |
| --- | --- |
| | Send data directly from your order or other system to CPS |
| | Handles International parcels and commercial invoice items |
| | Extremely fast package processing |
| | Supports auto-processing of separate first and last name fields |

---

Batch Importing/Exporting - Add Packages by the File
If your shipping data is in a CPS supported text file format, you can import this directly into CPS. Batch Importing and Exporting is one of the oldest methods and is still a popular way to send data to CPS. You can adjust CPS to use the data in your text data file.
Batch Importing is used to import the following:

| | |
| --- | --- |
| | Daily Orders |
| | CPS Customer Master File Information |
| | Commercial Invoice Product File Information |
| | Supports comma delimited (TXT, CSV) and fixed field file formats along with XML, spreadsheet and other files converted to CSV files |
And for Yahoo! stores, eBay sellers and Amazon merchants, batch importing is the perfect tool to easily ship orders using the text order file each provides. Import the data and you're ready to ship!
Include all the shipping information (like the weight and method of shipping) in the data you import into the CPS daily entry data base and CPS can automatically process the data and print out all the required labels without any extra steps in-between. Hundreds of thousands of parcels are processed through CPS in just this fashion every day.
In addition, all the data stored in CPS can be exported with pricing and shipping information just as easily as it can be imported for processing. Batch Importing/Exporting is available in every CPS package.

---

Cut'N Ship® - Google Checkout and Order Shipping

Cut'N Ship is one of the easiest ways to link CPS to an order entry system. If you can highlight the address text, copy it to the clipboard and paste it to Notepad, you can use Cut'N Ship regardless of any non-shipping related data you collect. Cut'N Ship adapts to varying address formats and works with multiple online merchant account sources simultaneously.
Cut'N Ship comes already set up to process Google Checkout™ Buy Now buttons and HTML API orders using the Google Checkout merchant order information page. Cut'N Ship is a very powerful tool and is included in all versions of CPS.
With just a few easy-to-follow steps, you can automatically:

| | |
| --- | --- |
| | Extract "Ship To" information from the online system |
| | Choose the best way to ship - manually or automatically |
| | Clean up and correct address information |
| | Add weight, extra services and dimensions |
| | Print required labels and documents |
| | Return tracking information to the online system |
| | Stores shipping information for future tracking and reference |
| | Use order numbers for reference tracking |
| | Send shipment notifications |
Google Checkout™ is a trademark of Google. All rights reserved. Use of the Google Checkout trademark does not mean or imply there is a relationship or affiliation with, sponsorship, or endorsement by Google of Harvey Software or its products. Harvey Software, Inc and Google are separate companies. The use of Google's trademarks are for instructive purposes only. Google Checkout helps you attract new customers, convert more sales and lower transaction processing costs. Google Checkout™ is a checkout process that you provide on your website to enable your customers to buy from you quickly and securely, using a single username and password. And once they make a purchase, you can use Checkout to charge their credit cards, process their orders, and receive payment in your bank account.

---
Ready-Made Solutions - Out-of-the-Box Solutions
(Prices and CPS Package Requirements Vary)

To make life easier, many companies find the power of CPS a great addition to their existing products. Interfaces have been created with Harvey Software's cooperation and partnership with other companies and these are purchased directly from Harvey Software Business Partners.
Harvey Software Business Partners are a group of software companies that install, set up and support CPS interfaced to their business software and hardware solutions. These companies supply all that is necessary to have a seamless solution from consulting to the final solution. Their scope is much larger than that of just the shipping component as they often offer entire turnkey business solutions.
Due to the complexity of these specialized applications, Harvey Software Business Partners become the first line of support, and are then backed up by Harvey Software's Technical Support staff whenever needed. To learn more about Harvey Software Business Partners click here.

Integrated Partners – provide solutions for mail order, retail, manufacturing, shopping cart, ecommerce system or other applications using Harvey Software products for their shipping solution. Integrated Partners are trained to resell and support Harvey Software's supply chain tools.

Solutions Partners - business consultants, systems integrators and carrier service providers that provide enhanced services, and can sell, install, support and train shippers in the use of Harvey Software products.

---

CPS Shipping Software Connects to Intuit QuickBooks

Do you use QuickBooks? Harvey Software has several Business Partners that have links for CPS shipping software to read from and write to Intuit's QuickBooks Accounting Software.
For more details on solutions for linking

to your Intuit's QuickBooks software? Click here...

---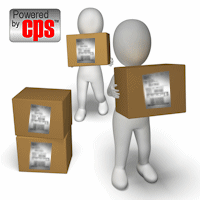 See How Fast Parcel Processing Solves Your Shipping Problems...