Download the Ten Reasons to Use a Multi-Carrier Shipping System

Report: Ten Reasons to Use a Multi-Carrier Shipping System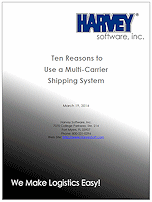 Save Time and Money
Introducing "Ten Reasons to Use a Multi-Carrier Shipping System"
Download our newest whitepaper and learn WHY your business should be using a multi-carrier shipping system and discover how the system pays for itself. Believe it or not, the shipping system effects not only the shipping department, but also accounting, customer service, sales, and management.
In this guide, you will learn…
| | |
| --- | --- |
| | Why the carrier provided shipping systems are designed for the carriers. |
| | How carrier systems are actually paid for through an installment plan. |
| | Ways to account for shipping costs. |
| | How to improve the overall business process. |
The shipping system is the last stop for your parcels before they earn their shipping label and leave your business bound for your customer. You will discover benefits that go far beyond the shipping department and will see how a multi-carrier shipping system will simplify your business as a whole while saving you money. Our new whitepaper will also show how, after implementing a multi-carrier shipping system, your business will be...
| | |
| --- | --- |
| | Connecting other business systems to a single shipping interface. |
| | Streamlining the business process in the shipping department. |
| | Providing shipping choices for customers. |
| | Improving shipment visibility to customers. |
| | Customizing your shipping system to fit your business instead of changing your business to fit the shipping system. |
After reading the guide, many business owners wonder why they were using carrier supplied shipping systems in the first place. They realize that much of what took so long in their old shipping process was never necessary. In addition to the obvious savings from the rate shopping features, company employees save time due to the simplicity of a multi-carrier shipping system. Other functions in your business will gain visibility into the order lifecycle and your customers will reap the rewards of a more efficient fulfillment process. It is a win all around!
| | |
| --- | --- |
| | Download the Ten Reasons To Use a Multi-Carrier Shipping System Today! |