Shipping Tools


Shipping Software Solutions
Enterprise Shipping Solutions
Shipping Solutions by Industry
Email Management Solutions
Integrated Solutions
System Requirements
Client Success Stories
Client Services

Service Plans
Product Training
Recent Updates
Support Log On
Parcel Tracking
Company Resources

Upcoming Events
Business Partners
News
Careers
FEEDBACK ) ))


Shipping Tools
CPS Home
About CPS
Multi-User Networks
SHIP eLERT
BestWay Calculator
Rate Calculation
Address Verification
Future Ship
Parcel Insurance
Hazardous Materials
Reports
Setup Wizard
Shipment Processing
Tracking
Carriers Supported
Linking to Other Systems
Linking to EPS
Success Stories
Getting Setup
Training
Service and Support



RateBots Lets You Control
Shipping Costs Like No Other Solution!

NEW!
Real-time, Best Price Control of Time-Guaranteed Carrier Services with Smart RateBots™
---

Standard CPS RateBots™
Virtually all companies today face the need to closely monitor shipping costs for each and every package they ship like never before. In many cases, controlling shipping costs alone can be the difference between profit and loss. Especially if you are offering free shipping or a flat rate shipping price! Even if your customers pay shipping costs, it is important to make sure you get the right rate and service for each shipment so you get the sale today and in the future. The good news is that handling these issues is no problem with CPS!
Standard CPS RateBots automatically select the best services for your packages based on your own business rules. RateBots gives you a quick way to accurately compare between your company's actual or contracted rates between all the carriers. That's right, your actual rates and not just carriers' published rates. You simply create your RateBots with your predefined business rules and CPS applies your RateBots so that every parcel is shipped exactly as you plan, no matter how you enter the data - manually or through automation. RateBots not only save you money but they help insure that your packages meet your customers' delivery expectations! With RateBots business rules, you can:
| | |
| --- | --- |
| | Determine the best way based on your business rules. |
| | Insure delivery time is maintained while finding the lowest actual cost between carrier services. |
| | Default to alternate services when requested shipping services are unavailable. |
| | Control shipping costs by using business rules to decrease human error. |
| | Put CPS RateBots to work by what you select in your order entry systems. |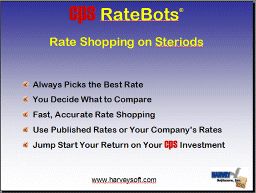 Click here to see a CPS RateBot in action...
---

CPS Smart RateBots™
Smart RateBots go beyond automatic rate shopping in standard CPS RateBots by finding the best price for delivery within a specific number of days or geographic location. Today, many companies ship time sensitive documents, perishables, or just about all of their products needing to be delivered within a specific number of days. CPS Smart RateBots leverage the fact that the carriers guarantee delivery times for all of their services depending on the destination. For example, most ground services will have a one day guaranteed delivery time for a specific area, two days for a wider area and three days for a wider still delivery area. By using Smart RateBots, shippers let CPS select ground service when appropriate instead of the often more expensive express service, still getting delivery made by the date needed. The shipper completely controls the decisions made by Smart RateBots. Companies today want this kind of power and the significant savings it brings.
With Smart RateBots CPS shippers can:
| | |
| --- | --- |
| | Ship time sensitive packages at the best possible service and rate. |
| | Significantly lower flat rate shipping costs while delivering packages at times customers expect. |
| | Automatically select green low carbon services and lower the shipper's carbon footprint. |
| | Decrease total freight costs while optimizing carrier provided rates. |

One Easy Way CPS Smart RateBots
Can Help Your Company Today!
Let's say your business is located in Fort Myers, FL and you want to offer 2 day shipping across the country for all orders. From this location, the carriers guarantee 1 day ground delivery to all Florida ZIP codes and 2 day guaranteed ground delivery for ZIP codes in AL, GA, SC, NC, VA, TN, KY and parts of WV.

The CPS Smart RateBot for this example would be set to rate shop the carriers' ground service for all of the ZIP codes that have 2 day guarantees or less and to rate shop the carriers' express 2 day service for the rest of the country. The Smart RateBot would then rate shop every package and find the best service and price to ship every package, automatically!

Using this type of CPS Smart RateBot allows you to reduce your costs for shipping to over 8 states by not paying for express service when ground service meets your delivery promise, PLUS saving even more by rate shopping between the carriers for the better deal. Think of all the possible combinations of shipping you can create!
Using the above Smart RateBot we shipped 51 packages weighing 3 pounds to each state in the US. Without using Smart RateBots the cost was $905.05. With Smart RateBots the cost was $834.16. Our savings was $70.89 total for all the packages together.
That was a savings of 8.6% or $1.41 average per package!*

*The amount a shipper saves can vary. The data used in the above example was shipping from Fort Myers, FL to randomly chosen destinations in each of the 50 states and 1 to Washington, DC. Because Fort Myers is located on the southern tip of Florida, and is a fairly remote location, the number of locations where 2 day service is available are less than an origin located in a more centralized location. The more centralized a shipper is to their customers, the greater the savings could be. For example when the same data was run for Kanas City the cost savings was $166.63 total ($706.57-$539.94). In this case the savings was 30.8% or $3.27 per package.
Both of these great money saving tools are standard features of CPS!
---
Best of All...
CPS BestWay™ Calculator and CPS RateBots Support Your Marked Up, Discounted, Published, or Contracted Shipping Rates and Charges!
CPS allows you to add a surcharge to carrier rates and record them at package level as you process your parcels. When you set up CPS you can optionally calculate and store fixed or percentage increases or discounts to carrier published rates. You can also apply mark-ups or mark-downs to specific zones and parcel weights. Once your rates are set up you can save, display, export and print all rates as you process parcels. No more guessing how much to charge customers for their orders and finding the best way to ship your orders!
---